Palestine Real Estate Market Report– February 2016
Palestine Real Estate Market Report– February 2016 stats
How is the Palestine, TX Real Estate market, anyway? In a nutshell—heating up! There is quite a difference in the Palestine, TX real estate market from this same time last year, as well as a difference from just last month! Sure, math is boring, but it is the only way to study the real estate market trends. Let's see some stats!
Local Palestine, Texas Real Estate Market Activity in the Last 30 Days (January 11th-February 11th, 2016)
In the last 30 days, the Palestine Association of REALTORS® MLS had the following activity:
Total # of Active MLS Listings:  128
New Listings Added in last 30 days:  33 (13 more listings than January's report!)
Total Properties Sold in last 30 days:  170 (13 fewer this month than last month!)
Average List Price: $145,443 (of homes sold in last 30 days)
Properties under contract / pending sale as of February 11, 2016:  44
List Price to Sales Price Average: 92.44% (This means that if the property listed at $100,000 the average final sales price was $92,440.  Keep in mind this is an average and not typical for every sale.)
Average Days on Market was 121 Days
Average Price Per Square Foot for Homes Sold was $71.81 per square foot
The average list price of new listings in the last 30 days is $140,694 with a median list price of 149,900.
See Last Month's Report here.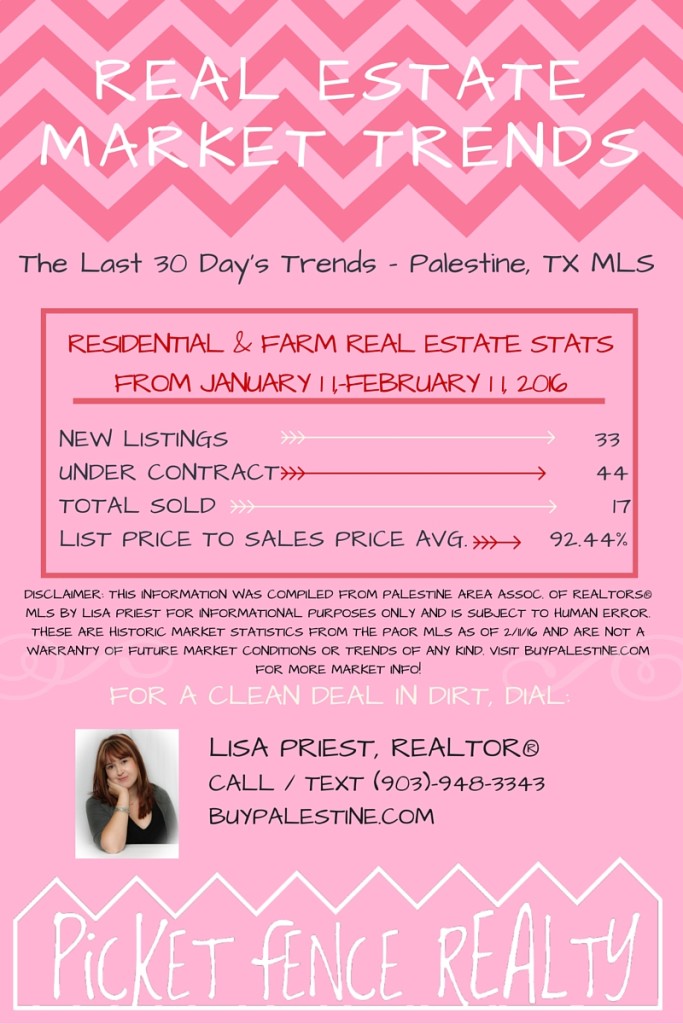 2015 vs. 2016 Historical Market Comparisons
Check out the differences in the same 30-day segment of this same 30-day period a year ago vs. today. Highlights include:
In 2015, the average list price of homes sold was $139,765 and in 2016 was $145,443.
There were 17 homes sold in both 2015 and 2016.
2016 Average days on market to sell was 121 days compared with 134 days in 2015.
The average price per square foot has gone from $63.80 in 2015 to $71.81 in 2016.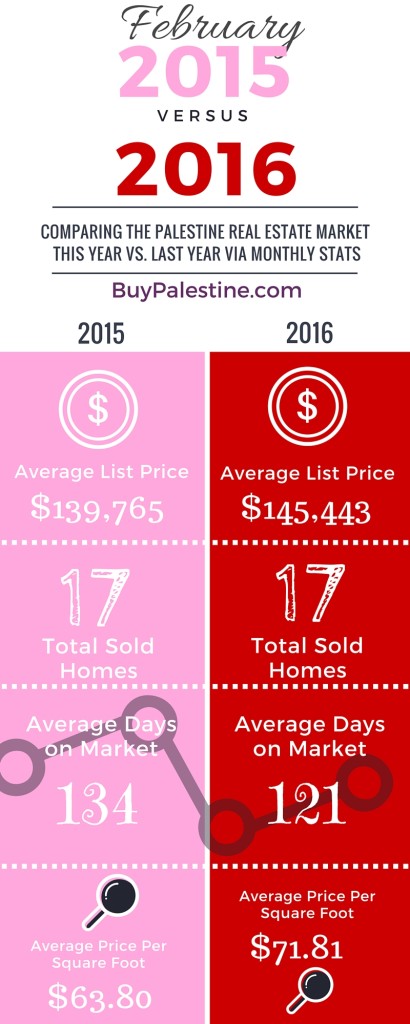 What Kind of Market Is It?!!
As of today, the market absorption rate (at the time of this posting) is 7.52.  Whatever does that mean?!  It means that if no other properties were listed for sale in Palestine, it would take 7.52 months to deplete the housing inventory in Palestine, Texas.  An absorption rate between 3-6 months is generally considered a balanced market. This month, the market has shifted into a buyer's market!
Will the pendulum swing favoring buyers continue next month? We shall see! The market is always changing and watching the statistical data is a great way to keep an eye on the trends. February took a swing away from the balanced market trajectory from the last several months and I can't wait to see what March has in store.
Find Current Palestine TX Homes Houses For Sale
For a complete list of currently available real estate in Palestine TX and surrounding areas, click here to start your search.  Make sure to subscribe to this blog so you don't miss out on current market information and Palestine TX area events.  If you would like to discuss your real estate needs, I am always available and don't worry, I won't bore you with math.
UNFORTUNATELY REQUIRED DISCLAIMER: This data was compiled from Palestine Area Association of REALTORS® Multiple Listing Service by Lisa Priest, Agent with Picket Fence Realty for informational purposes only.  Please note that this data does not include commercial properties or unimproved acreage and includes properties with a 75801 or 75803 zip code only  This data is current as of 2-11-16 and is not a warranty of future market conditions of any kind.  This information is deemed reliable but not guaranteed.
Lisa E. Priest is not a fan of disclaimers and is a Palestine, Texas REALTOR® with Picket Fence Realty, Inc. You can reach her via phone or text at 903-948-3343 or read more blog articles  here